How RSP Helped a Family with a Unique Need
How RSP Helped a Family with a Unique Need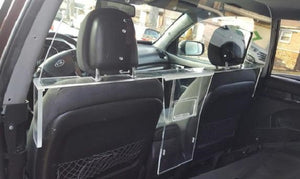 Letter from our Client.
Rideshare Safety Partition is Life-Changing for Family with Unique Need
Not only is the Rideshare Safety Partition a necessity for the rideshare workforce, it is also a simple, practical and compassionate solution for families and other caregivers who need to safely transport loved ones who have special needs. For our family, the product is life-changing. Our loved one can sometimes exhibit challenging behaviors when being transported in a vehicle that could be distracting for the driver, which has the potential to lead to an unsafe situation.
Determined to have all family members riding together safely, we searched all over to find an affordable product that would fit our existing vehicle and meet our needs. Although the Rideshare Safety Partition was targeted to the ridesharing community, we believed it might work for our family and approached the company. The company responded immediately, and with kindness and generosity. They came to our home, measured our vehicle, and lent us a product to try out while helping us to develop a customized solution. The final result made it possible for us to drive safely with our loved one without worrying.
I encourage families, CILA homes, group homes and agencies that care for individuals with disabilities and other special needs to contact Rideshare Safety Partition to help them create a solution for safely and compassionately transporting passengers with challenging behaviors.