Learn About Grant Nelson Memorial Program – Don't Take Your Safety for Granted – Featured on CBS News
Learn About Grant Nelson Memorial Program – Don't Take Your Safety for Granted – Featured on CBS News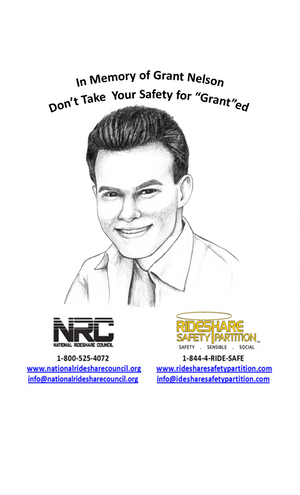 The Memorial Program was featured on CBS News – http://chicago.cbslocal.com/2017/09/06/slain-uber-driver-safety/
Grant Nelson was a son, a brother, a friend. An all-around nice guy and just a beautiful soul. He had dreams, hopes and a love for music. Taken tragically and suddenly while doing what most of us do on a daily basis; just trying to make a living that would get him closer to his hopes and dreams. Grant was 34 years old when he was fatally stabbed by a Rider while driving in Chicago for the largest Rideshare Company in May 2017.
To help and work toward preventing other tragedies such as this, Grant's family has partnered with the National Rideshare Council and the Rideshare Safety Partition companies located in Chicago, IL to bring awareness to safety for all those who are drivers and riders of rideshare services and rideshare companies.
The Don't Take Your Safety for Granted Memorial program was founded for Grant Nelson July 2017. This awareness program was founded by the NRC (National Rideshare Council), RSP (Rideshare Safety Program), and Nelson family for all the Rideshare Companies, Drivers and Riders to take control of their safety. The program is comprised of: Educational Safety Videos, Annual Safety Awareness Events (NAMI Walk and Grant Park Fundraiser), Public Service Safety Announcements, Go Fund Me for Safety Grants for Drivers and Riders, and Social Media Awareness.
Visit the program website for more details –  www.donttakeyoursafetyforgranted.com