The RideShare Safety Partition is an effective tool against the Coronavirus
The RideShare Safety Partition is an effective tool against the Coronavirus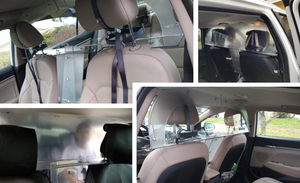 With increasingly alarming news around coronavirus & the rideshare industry, we want to reiterate our dedication to protecting both passengers and drivers during these trying times that we all face. We're continuing to offer the only patented solution that minimizes exposure to the virus while also protecting from more violent physical harm.

Also, we wanted to share the actions we're taking to help support the community.

We consider the rideshare industry as part of our family because our company was founded on the very ideals of making rideshare as safe as possible for not only drivers but passengers as well, and your safety remains our highest priority.

We are in the business of protecting people and in the midst of this coronavirus outbreak, we remain committed to giving you the tools needed to protect you as you work to support your families and achieve your goals in life through the rideshare industry in all of its forms. But it's also important that we give you as much information as possible about the procedures we follow to help support our efforts to ensure our partitions are effective in preventing the spread of the virus.

Our teams are in daily contact with the websites for the Centers for Disease Control and Prevention (CDC), the World Health Organization (WHO), federal agencies and other global health organizations to share the most up-to-the-minute information to ensure the actions we're taking are thorough and relevant.

We take the greatest pride in the role we play in the lives of our customers, personally and professionally.

You can continue to rely on us. Our commitment to our customers remains as faithful as ever.